Ready for Christmas yet?!? How about a wonderful freebie brought to you by the Tater Tots. We have put together a little blog hop for ya. Take a little hop from blog to blog and get some awesome bragbook pages from Designs by Tater's latest kit:
Greatest Time of Year
. You can also get this fantastic kit at Scrapmatters. It is 20% off for a limited time. This kit is perfect for all those past and upcoming Christmas photos. Check out the bragbook photos for a little taste: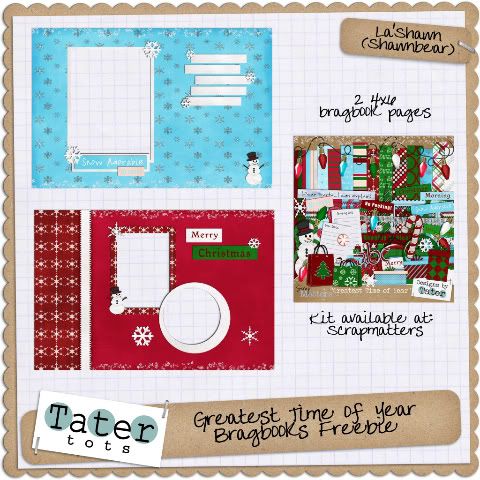 *
Download Link
*
You should have came here from Melissa's blog and I am the last stop on this festive hop. But in case you stumbled here or have gotten lost hopping around, here is the list to get you back on track:

Nikki ~ Nikki's Digi Layouts

Janine ~ Digital Scrappin Rocks

Chel ~ Chel's Scrapping Creations

Lisa ~ Aprilisa Designs

Kayla ~ keepscrappin

Amber ~ Live at Pink Alley

Melanie ~ ScrappyMelly

Mandy ~ Digi Mandy Land

Melissa ~ Just Call me the Cluster Queen

La'Shawn ~ The Bears <-- You are here
-Thanks for stopping by & happy scrapping!
Hugs, La'Shawn