Well, today is my last day off work this week. Yesterday I kept thinking that was my last day. I am so used to having 3 days off. Now I have 4. I hope I dont pay for it too bad this weekend at work.

Today is Isaiah's birthday party. We are having a
Phineas & Ferb
birthday party for him. He loves that cartoon. I think that is a good way to end my week. Surrounded by family with Mr. Bug in the spot light. :)
So, this week Isaiah did a little house work, ran a few errands, I did a little (ok, a lot) of scrapping, watched a little tv, did some potty training, and spent a whole lot of time playing together. He has been my little shadow all week. I really think it doesnt matter how bad this weekend is, this week will more than make up for it. I found all my scarf and was checking them out. He though he needed a "carf" and wore it all night last night and all day today. He was my Mr Fix it and has played with his little tool bench off and on all week.
This is the closes thing I will ever get to my dream (a stay at home mom) and I couldnt be happier. Here is a peek into our week: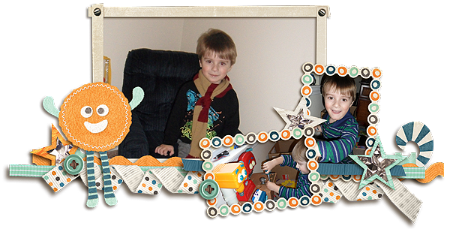 (frame by Zoe Pearn Designs)
Thanks for stopping by! I will probably be back next week since tomorrow starts work weekend and they are 13 hour shifts (yuck!)
Have a great weekend! ♥