Good Morning! I know what you are here for! :D Sweet Digi Scraps' CT has picked out our favorites and then giving you goodies from those kits. How awesome is that?!? My all time favorite of Liz's kits is "
Day Dreamer
" I love the vibrant colors and the fun patterned papers. The snail and cute flowers are a nice touch as well. :) Fall is for sure my favorite time of year, but with that being said, Spring is right up there with it. And "
Day Dreamer
" captures that feeling to me:
Here is what I made for you guys with this darling kit: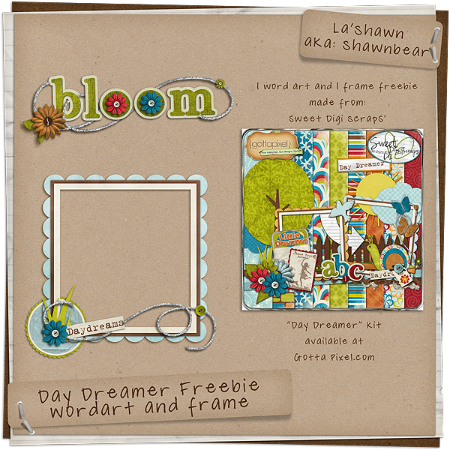 You can click the image to download or
HERE
Here is the list of the blog train. In case you get lost or side tracked. :)
Liz: www.sweetdigiscraps.blogspot.com
Team Blog: http://creativesweeties.blogspot.com
Danyale: http://bygonesscrapbooks.blogspot.com
Lei: http://leidee-q.blogspot.com
Kerry: www.kayjaysdays.blogspot.com
Jan: http://intensemagicscraps.blogspot.com
Sheila: www.scrappingmyjourney.blogspot.com
Colie: www.coliescorner.blogspot.com
Cynthia: http://thelatinmrspeel.blogspot.com
Mary: http://texaschicstyle.blogspot.com
Dana: http://www.scrappydoosordonts.blogspot.com
Simona: http://lightmistress.blogspot.com
LaShawn: http://the3cbears.blogspot.com <-- you are here
Carolyn: http://carolynscommotions.blogspot.com
Barb: http://digi-dallies.blogspot.com
Rachel: http://www.iwishiwasthatcreative.blogspot.com

Thanks for stoppin by!