Hello! How is everyone? I am better. Sunday I was one sick chicka! Remember how I used to get migraines? Well, changing from 3rd shift to 1st really helped that. However, when I do get one it knocks me out!! I woke up Sunday with a doosy of a migraine. I havent had one like that in months. It took nearly all day for it to ease up. Today I thought it would be wise to go out in nearly 100 degree weather and swim with two rowdy boys. It was a lot of fun but boy was I tired and had a headache afterwards. That didn't stop me from scrapping though. :D I needed some scrapping therapy. Here are some great kits from Pardon The Mess.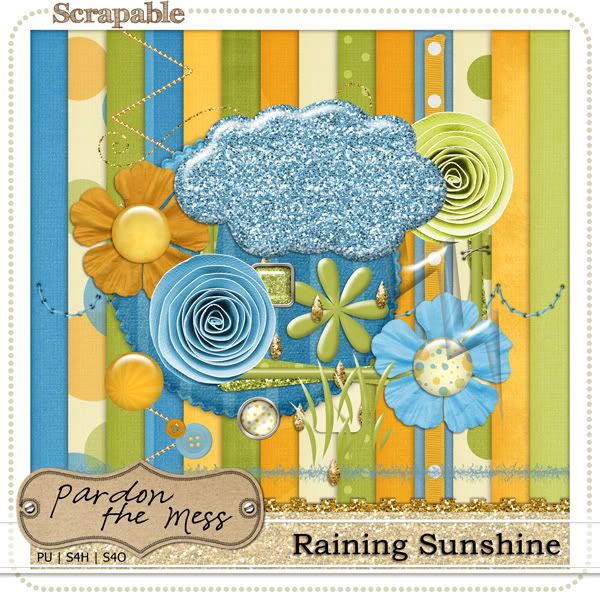 It's always so fresh after a good rain and that's what I hope you get from this colorful kit. This kits main colors are blue, orange and green. There are lots of storm and rain related elements, but there are also lots of other elements that make this kit both unisex and multipurpose! There is also a great BUNDLE. Which includeds 14 Papers, 26 Unique Elements (26 Total), 3 Lowercase Alpha Sets, and 12 Styles

They stomp, they roar and they do it all over again. The colors of this kit are green, orange and brown. If you want the BUNDLE make sure to grab it!! The bundle includes 20 Papers,
36 Unique Elements (42 Total), 1 Lowercase Alpha Set, and 15 Styles


I hope you like what you have seen! I am such a huge fan of PTM's designs!! Each time I use one of her kits, I ♥ them even more!! (I am sure you can tell. lol) Sara is a super sweet chick too! She has allowed me to use her awesome designs to make you guys a freebie. Check it out.

You can click HERE to download or the image.

I hope everyone had a great Monday!!