Good Monday morning! I hope everyone, who celebrates, had a great 4th of July weekend! My family did. Isaiah loves fireworks...or as he calls them firefireworks. lol. He wasn't the slightest bit scared of them. Of course he was on his Nona's lap and Nona makes everything better for him.
Last week ScrapMatters moved servers. That caused a little delay in the new products. Yikes! I know, right! It is like I plan my days around releases and scrappy goodness...sigh. That's kinda sad. lol. So, The Design Girls new releases came out on Saturday instead of Friday. I will show you the lovelies today.
"
Crazy for You
" is a beautiful kit that is really perfect for scrapping any photo that you have. There are a wide variety of colors and adorable elements in this kit. I don't know why, but it kinda reminded me of Halloween. It must have been the orange and black in it. I refrained from scrapping Halloween though. lol. But, this kit is really beautiful. Check it out: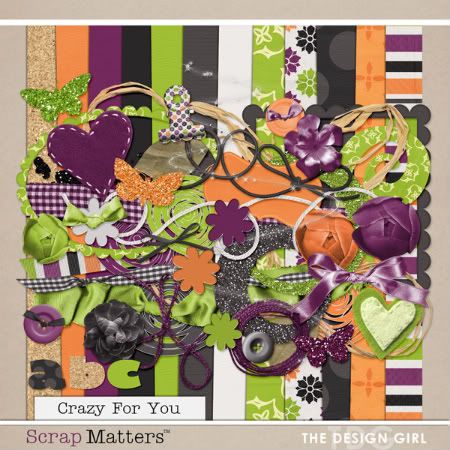 (Click
HERE
to purchase)
and a page done by me. See you really can scrap anything with this kit!
And since you know I like to show my son off so much, I thought I would just add another photo in here. Friday we had another day where it was just him and me. Now, from the moment Isaiah was born he has had the flash of a camera in his face. Literally. So, most of the time he is annoyed when I pull out the camera. I get a lot of "no pictures mommy!" and "no say cheese!" but this last Friday he was a ham and a half! I discovered the secret. My camera has the screen on the front where you can see yourself. :D He likes to make faces as Isaiah in the camera. HA! It works...for now.
Thanks for stopping by!