Good Morning! I am up a lot earlier than I normally am. Well, to have slept last night that is. lol. Normally I am up at this time, but I have been up all night previously. Could be b/c I had snoring that kept me up and I finally just gave up. Such is life. :D I figured I would hop on here before the guys got up and got loud getting ready for church and share some scrappy goodness while having some yummy coffee....mmmmm....coffee! :D So lets get to it!
It is a new month and that means a new Funky Playgroup. This month is a tad bit different. This month the designers didn't do their own thing, they collabed it up and it if fabulous!! Aaaaannnd not only with designer but a lot of the CT crew joined in and for the time being when you buy the collab you get the quick pages free! How cool is that?!? There is a whole awesome slew of these collabs (all with the same color scheme) You can check them all out
HERE
. I am going to show you 2 of them today.
First off is a collab between Girl Boy Girl Designs and 4 Shades of Blue called "
Fruit Punch Collab
" This kit is a bright and fun kit full of wonderful papers and the cutest fruit-tastic elements ever. But don't let the fruitiness of this kit make you think you can only scrap fruity goodness with it. I scrapped Isaiah and myself just being ourselves (chicken nuggets are not fruit. lol) So check this darling
and here is the page I made with it:
and the 2nd one I am going to show you is a collab between Michelle Batton Designs and Amy Mielnezenko called "
How I Feel - Collection
" This collection has a beautiful kit, emotion word clips and a set of templates. I love this collection! Living with a 2 year old little drama king, I need some scrappy items on how one feels!! How I Feel provides you a means to express any emotion you might be feeling! The included journaling-orientated templates, by Amy Mielnezenko will kick start your creative writing juices and the funky little word strips will help you express your emotions! Check it out: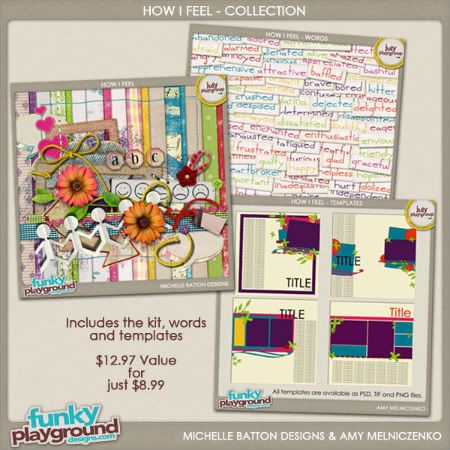 (click HERE to purchase)
and here is my page, with said 2 year old drama king. :D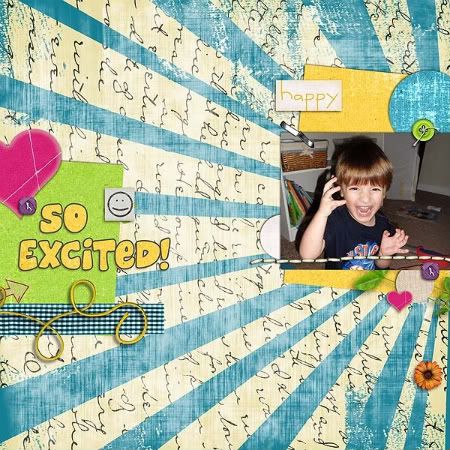 That's it for me today. I am going to get the house stirring now. Fun-Fun!! :D