Good Friday morning!!! TGIF!! Whoo Hoo! It is new release Friday and my pay day. I am here to tell you about some fab items and then off to buy some myself. :D Going to start out with LawTeeDa's new kit. Yep, she is still going with her Favorite Things Minis. Yay!! This week it is " Favorite Things Mini: Love" I was waiting for this one. ♥ is a beautiful thing! Just like 1 Corinthians 13 says: "And now these three remain: faith, hope and love. But the greatest of these is love."

That rings close to my heart. It was all over my wedding. Out of all those things, God holds love the highest. That is a good thing too! :D Anyway, check out this adorable kit. I love this muted color scheme and darling lovey-dovey ellies. The word art stickers are my fav!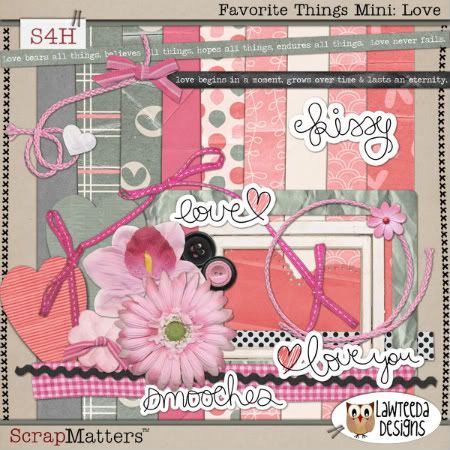 (Click
HERE
to go to her store)
Here is my page with my ♥ :)
and what I eluded to earlier this week....Ramona the Pest Designs has a new kit out this week. It is for little boys! (squeal!) You know how I just ♥ those! Lets get this
party
started. :D Ramona's kit "Birthday Boy" is an adorable party-tastic kit full of cake, candles, balloons, and more birthday goodness. It is topped off with wonderful boy color goodness. :D Check this darling out:
(Click HERE to go to her store)

Here is my page with this awesome kit...with the blue eyed love of my life. lol...my little nephew, Ethan: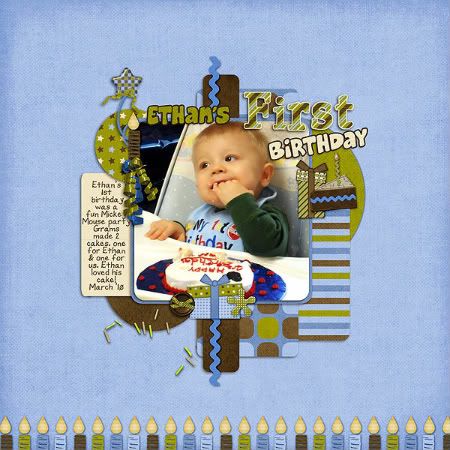 Well, that is it for me today...I am off to spend my spending $$$ on scrappy goodness. :D
Until next time!