It's Friday again?!? I can't believe that. I swear my weeks fly by. Especially since I hardly do anything. Ugh. Well, on to better news than being at work. It's time for new releases at ScrapMatters today! Yay! In all honesty, before I started CTing for the store, I would wait for Friday's to see what goodies SM had! When I worked 3rd I would come back a few mins early from lunch to check it out and when I switched to days, I would check it before I ran out the door to work. I love this store and the designers goodies....digi-goodies. lol. So here are some awesome new releases!
Chelle's Creations has a c.u.t.e new bundle out this week. I will be coming back to this! I have a certian little boy who likes to do doughnuts in my yard with his little John Deere. :)
is what I am talking about! It has felties!! yay!! Check it out:

Click HERE to go to Chelle's store.

Plum Dumpling Designs has a new kit out that just screams SPRING!! to me but can be used for so many other things. All year long! (and there is a freebie! ) Love these colors! Check it out: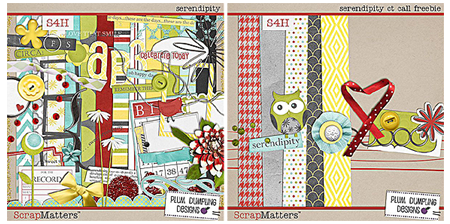 Click HERE to go to Plum Dumpling's store.

I also used an awesome template set for this layout. New today also. I am a template junkie and these just rock! All layery and brackety. Love it!
Check out by geniaBeana Scraps:

Click HERE to go to geniaBeana's store.

TGIF for you. :P Hope everyone has a great one!